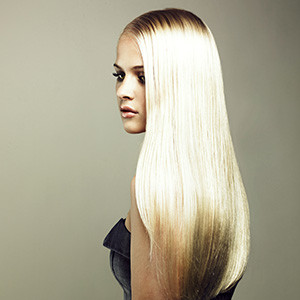 Keratin treatments and Brazilian Blowout are hair smoothing treatments that straighten hair without damaging the hair follicles. These treatments make use of protein that is applied on the hair to protect, smooth, soften, and relax the hair. Both treatments eliminate frizz, seal in color, add shine, improve hair health and reduce blow dry time.
Keratin Treatment or Brazilian Blowout?
Keratin straightening treatment and Brazilian blowout, both are professional salon treatment and both treatments make use of latest hair smoothing products. So what's the difference between the two? Well, the difference is the hair smoothening procedure. You might get almost similar looking hair from both the treatments but the effect of either treatment on your hair will be different.
What Is Keratin treatment?
Keratin treatment provides deep nourishment to make hair look at its best. This specialized treatment removes frizz from hair. Hair smoothing is achieved by applying keratin solution on each and every strand of hair. The Keratin products are added to the sections of the hair that are partly blow-dried earlier. The final step of the keratin treatment involves straightening the hair using a high temperature hair straightener. However, different hair straightening salons use different approach of hair smoothing. The effect of keratin treatment last up to 2 to 3 months.
What Is Brazilian Blowout treatment?
Brazilian Blowout treatments are offered in upscale hair salons. It is expensive version of keratin treatment. It involves washing your hair with a specialized solution. After that a mixture of amino acid is applied on your hair (hair get protein from this solution). At last hair is blow-dried and shampooed. It means entire hair pack is washed off during the procedure. Thus, you leave from hair straightening salon with shiny, bouncy and straight hair. The effect of Brazilian blowout treatment last up to 10-12 weeks.
Both Brazilian Blowout and Keratin treatment are expensive and directly impact on your hair. No matter which hair smoothing treatment you opt for, choose a reputable and professional hair salon. Only reputable hair salons make use of quality products which not only provide value for money but also offer long lasting solution.