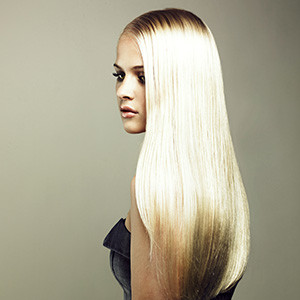 Every women with curly, frizzy and unmanageable hair always dream for sleek and shiny hair. Well, with the help of modern hair straightening methods, getting healthy and straight looking hair has become very easy. If you are also thinking about hair straightening, then you have two options –permanent hair straightening and temporary hair straightening. Permanent straightening last until new hair grows out while temporary straightening remains until you wash your hair.
Temporary or Permanent: Which hair straightening procedure is good?
When you straight your hair using flat iron, hair gets burned by heat. The flat iron definitely makes your hair appear straight and shiny, but breaks the hydrogen bond present in the hair. The more you apply flat iron on your hair the more hydrogen bonds break. Thus, your hair becomes thinner every time you apply flat iron.
For sure, there are many hair straightening irons available on the market. Each claiming to be good for hair, but eventually they burn hair. Though you can use heat protection spray to minimize the effect of heat on hair, spray does not provide 100% protection.
You should not opt for temporary hair straightening more often. Once hair loses its sheen and shine, there is no going back. Your hair will look lifeless until new hair grows.
On the other hand, permanent hair straightening methods are different. There are various types of permanent straightening methods. Among all keratin hair straightening is the best. Keratin is the natural protein present in hair and nails. This protein has the capability of changing the entire structure of hair. In keratin hair treatment, this protein is put into the hair that removes frizz and curls. However, flat irons are used here to seal the protein. Notably, heat is applied on hair only once and thus damage caused to hair by heat is lesser.
Temporary and permanent hair straightening
Both hair straightening methods somehow degrades the quality of hair. If you love keeping your hair straight, then instead of using flat iron again and again opt for permanent hair straightening options. There are reputable hair straightening salons, that use good quality hair straightening products. Thus, you can get amazingly straight hair without worrying about damage.